Welcome!
You've found the official website of Hal David, lyricist for such standards as Raindrops Keep Falling on Your Head...Close to You...I'll Never Fall in Love Again..."Raindrops" garnered an Academy Award for Butch Cassidy and the Sundance Kid. In addition, What's New Pussycat, Alfie, and The Look of Love received Oscar nominations.
Hal David's other million-sellers include Do You Know the Way to San Jose, Walk on By, What The World Needs Now is Love, and To All the Girls I've Loved Before -- all of which have become pop standards.
Enjoy your stay - peruse the song catalog, or get to know Hal David personally in the Words from Hal David section. Thanks for stopping by!


He was President and distinguished member of ASCAP's Board of Directors, Chairman Emeritus of the Songwriters Hall of Fame and recipient of its inaugural Visionary Leadership Award, and was honored as Ambassador by the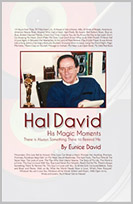 Society of Composers and Lyricists. Legendary lyricist Hal David expressed his celebration of life and love in all of the beautiful poetry of his classic songs. In her recently released book, Hal David: His Magic Moments, his widow Eunice David celebrates this unique and modest man who left such rich legacy for lovers, giving them the words which express the great themes of their own lives. Memorable anecdotes include how Hal came to write some of his most iconic songs, all set within the span of their world-wide travels and historic events. This beautiful novel covers their magical twenty-five years of marriage, which all began with a simple game of tennis.

Hal David: His Magic Moments is available for purchase at dorrancebookstore.com and at Amazon.com